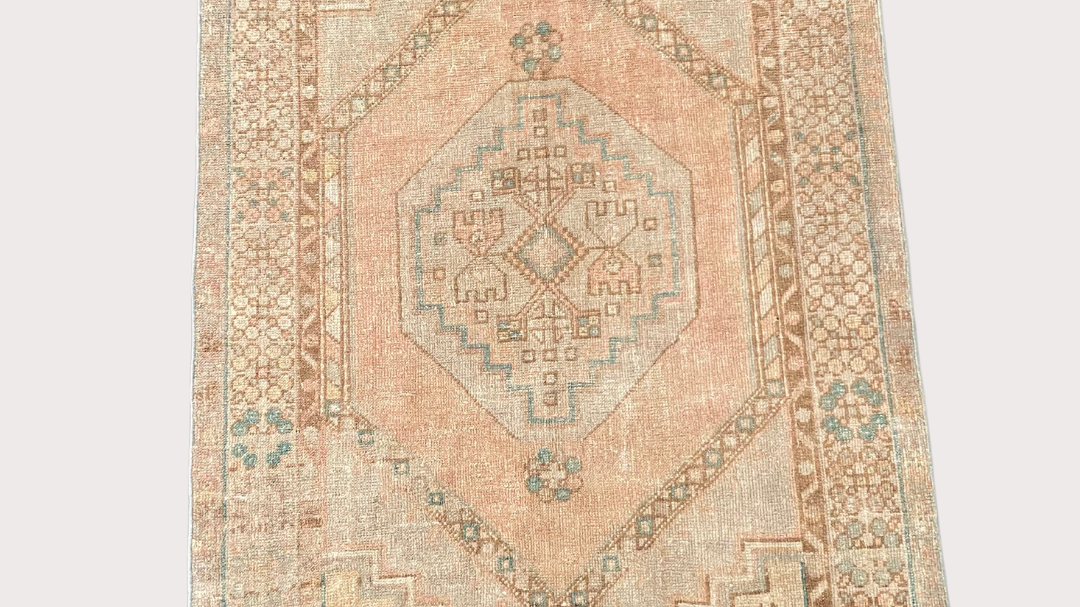 Peach & Tan Oushak - 6' x 3'6"
---
Vintage oushak rug from the Ortokoy Village. This 50 year old vintage rug features peach, tan, light pink, and pops of teal and is in excellent condition. 100% wool; vegetable dye.

Dimensions: 6'L x 3'6"W
Care Instructions: Quickly blot any liquid spills that pool on top of rug with a clean, white cloth. Remove stains by gently blotting spot with mixture of warm water & mild dish soap (ph neutral). For very soiled rugs, have them professionally cleaned by a company well versed in handwoven, vintage rugs.
Sparrow & Co is proud to partner with Intentional Home to bring authentic Turkish textiles to your home. Our shared mission is to positively impact communities by building relationships and providing sustainable income. Each rug shares a story of talented artisans, time-honored tradition and enduring quality.
---
IMPACT YOUR HOME.  EMPOWER COMMUNITIES.

Handmade in Ortokoy, Turkey

Ethically Sourced

100% of the net proceeds from this purchase goes back into Sparrow Collective and empowers local & global communities.
Due to the handmade nature of this product, slight variations and imperfections may be present. 
Peach & Tan Oushak - 6' x 3'6"